"Vtedy, keď nedokážeme zmeniť situáciu,
stojíme pred výzvou zmeniť seba."
Reziliencia je naša schopnosť:
zvládať záťažové situácie

efektívneho energy-manažmentu

podávať optimálny výkon

konať v súlade so svojimi hodnotami

dosahovať vytýčené ciele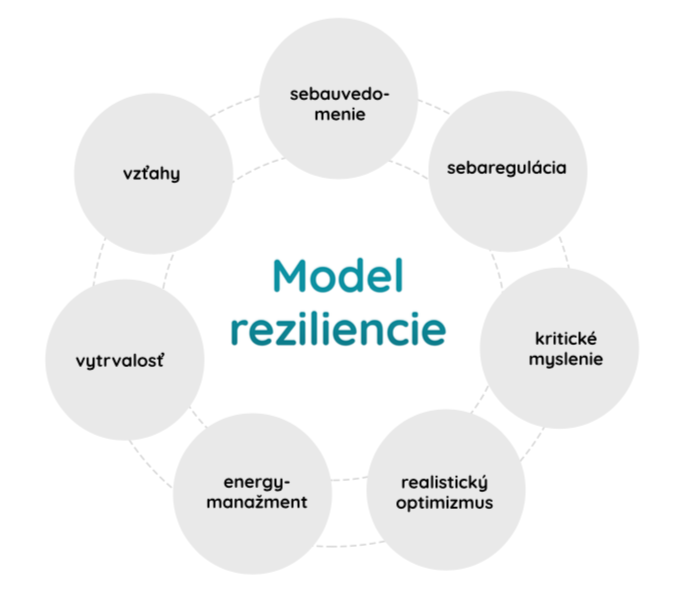 REZILIENCIA je merateľná ( rezilientný kvocient "RQ"), môžeme ju vedome rozvíjať prostredníctvom osvojovania mikro-rezilientných návykov.
"Stávame sa tým, čo opakovane robíme." (Aristoteles)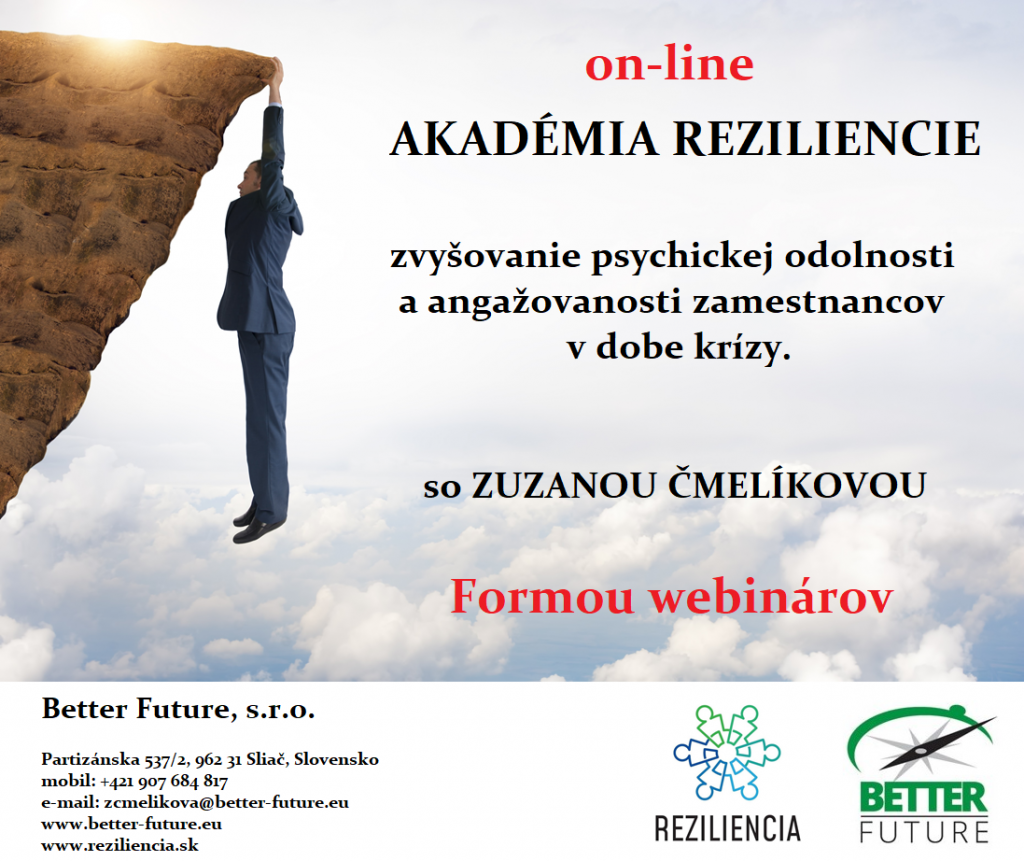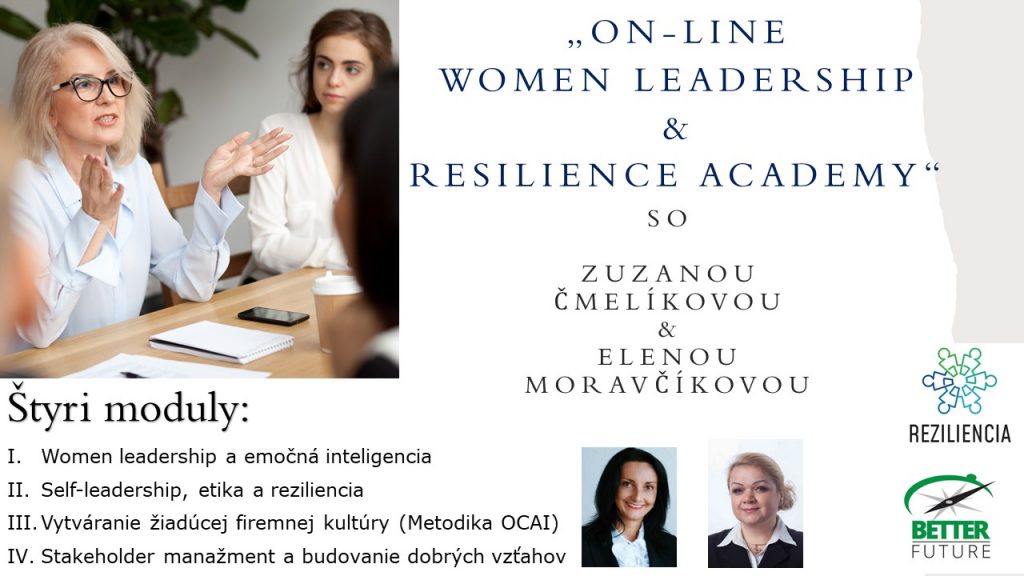 ČO POVEDALI O REZILIENCII
Reziliencia je schopnosť byť víťazom, v súkromnom aj pracovnom živote. Je to vytrvalá práca na tom, čo nám dáva zmysel a posúva nás vpred.
Anastasia Kuzmina – naša najúspešnejšia olympionička
Reziliencia je naša schopnosť nikdy sa nevzdať v našom záväzku k vlastnému i spoločenskému rozvoju a to i napriek rizikám, tlakom a problémom.
Leo Fernando Castelhano Bruno – Profesor, Fundação Dom Cabral, Brazília, odborník na "Situational leadership".
Reziliencia je kľúčom k udržateľne morálnemu leadershipu.
Sandra Peart – Dekanka, Jepson School of Leadership Studies, University of Richmond, USA
Reziliencia je naša schopnosť byť fyzicky, mentálne a emocionálne pevný i napriek dlhodobej neprianzi. Je to naša schopnosť vybudovať si vnútornú odolnosť a zameranosť na dosahovanie cieľov a to i napriek nepriaznivým okolnostiam.
Bobby Ukrop – Prezident a CEO spoločnosti
Reziliencia je to čo nám dodá silu a odvahu keď už nevládzeme a umožní nám "vrátiť sa späť" na našu cestu za dosiahnutím dobrého a šťastného života.
Joanne B. Ciulla – Profesorka, Department of Management and Global Business, Riaditeľka, Institute for Ethical Leadership, Rutgers Business School-Newark and New Brunswick, USA
Reziliencia je naša schopnosť byť pravdivým sám k sebe, čo znamená plne dôverovať svojim hodnotám – morálne konanie je kľúčom k dosiahnutiu úspechu v profesionálnom živote ako aj k žitiu dobrého a zmyslom naplneného života.
Laszlo Zsolnai – Prezident, European SPES Institute, Leuven, Belgicko, Profesor a riaditeľ Business Ethics Center, Corvinus University of Budapest, Maďarsko
Zdroj reziliencie je v etike – tá je tiež základom pre morálne hodnoty.
Iwona Kuraszko – autorka programu "Feamale Leaders for Change", Karolinska Institute, Švédsko
Články
Som mamou dvoch úžasných detí. Janíka a Emky. Kým som nemala deti verila som tomu, že vzdelanie a praktické skúsenosti, ktoré som m…
Reziliencia je kľúč k vašej transformácii na profesionálne aj súkromne úspešného a vnútorne vyrovnaného výkonného človeka. Nie je to však…
Každý deň realizujeme veľké množstvo rozhodnutí a dostávame sa do situácií, pri ktorých nie je ľahké nachádzať tie najsprávnejšie riešenia. Leaders…